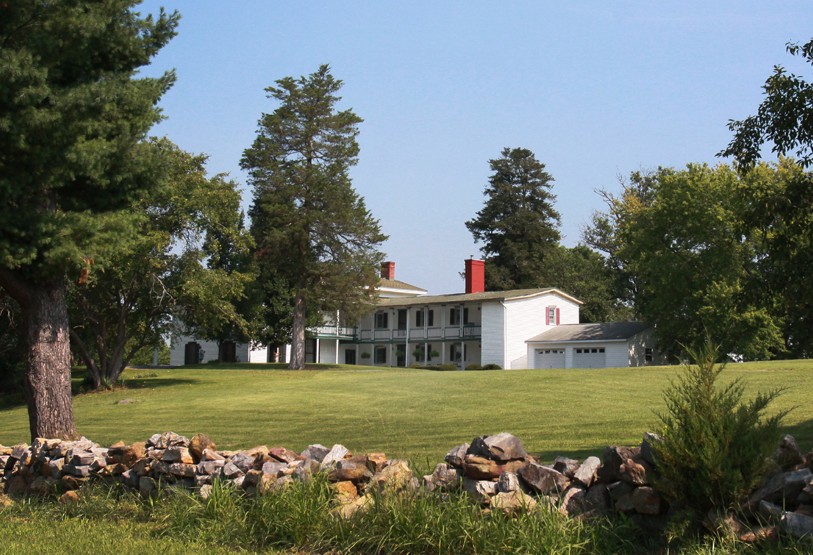 Nestled on 20 acres of pastoral land at the base of Massanutten Mountain midway between Harrisonburg and New Market, Rosendale, once home "to some of the finest blooded animals in the Shenandoah Valley," is rich in natural beauty, wildlife, architecture, and history.
The Rosendale mansion, known locally as "the Farmhouse," is one of the most beautifully surviving homes in the Shenandoah Valley. It is being authentically restored by historic preservationist and Innkeeper Paul Murphy, whose earlier projects included Jefferson's Pavilion 9 at the University of Virginia.
You will marvel at the well preserved manor house with its verandahs.  The original two story log house, now the Dining Room, built in 1790 and expanded in 1870, sits on top of a  hill ("…a green and smiling swell" ) overlooking Smith Creek and the gently rolling hills beyond.
A large limestone Spring House where milk was once cooled, cooking and laundry was once done, and Endless Caverns butter was made sits to the north of the "mansion."
To the southwest are a brook and a wooded preserve populated by deer, fox, and wild turkey–and walking trails.  Beyond that are the cattle and horse pastures, so bring your horses. Stable lodging and turn-out pastures are available for guests traveling with horses.
The Rosendale Inn has a rich history that includes three US Presidents and more!
Virginia's celebrated poet Joseph Salyards wrote about Rosendale in 1874:
"It is a green and smiling swell,
A spot for happiness to dwell;
It seems that nature shapes a plan
And molds a dwelling spot for man,
And this was meant to be the home
Of loves and joys that never roam."